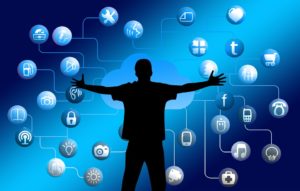 (Source: https://pixabay.com/en/man-circle-structure-networks-1915351/)
In the modern world, social media is the new frontier in the corporate world. It has provided unprecedented advantages for marketing campaigns over traditional channels. Minimal advert costs and widespread reach are two core advantages to opt for a social media campaign. This rush into social media advertising has led to an overflow of content resulting in a drop in quality control standards. Users are busy flooding the pages with content and forgetting to check for errors or seem not to care about proofreading their content before they post it.
In this article, we are going to discuss some of the most common writing mistakes in social media posts and their solutions:
Forced Relevance
It's a common occurrence during any holiday or special occasion for online marketers to take advantage and bundled up their campaigns together with the current trend. This has proved effective for some occasions but to which extent should you ride along before it begins to hurt you?
It's quite easy to overlook your bounds and venture into harmful environments. Your clients can see when you are trying to force your campaign to fit into current events and usually respond negatively to such campaigns.
The solution to this mess is always acknowledging the current moment and carrying out your campaigns with professional consistency with some level distinction from current events.
Writing Too Many "Salesy" Posts
Clients can detect a sales post or ad before it pops on their screen. Sales ads can be likened to a billboard; they both contain general information that's not valuable to the client. You briefly take a look at them and quickly go over them and continue with your browsing. All they do is pitch something to the consumer without giving useful details or information at the end.
Such posts rarely get to make the desired impact on social media where posts and content are aimed at creating conversations. When designing social media content, always ensure that your content is more similar to a magazine ad, which is attractive, eye catching and conversation provoking. This way, you will have campaigns that are fully engaging and delivering the precise messages.
Spelling and Grammar Mistakes
A screenshot of the Hemingway tool at work
These errors are easy to come by and hard to notice until very late. Spellings and grammatical errors are deadly to content quality of any professional advertising campaign. They elicit a varied reaction from the audience ranging from silent treatment to outrageous comments from angry users.
Before posting any content online, use proofreading tools to eliminate all errors and structure your work in proper formats adhering to all regulations and rules. Have someone else go through your article and give a fresh look at it. You should have knowledge on descriptive writing topics to improve the way you create your content.
Big Words for Little Phrases
When writing content, you can be tempted to use complex words to make you look smarter and in touch with your dictionary. Using complex words that are not used daily will make your post hard to comprehend. Other uses might misunderstand your message and develop negativity towards your campaign.
You should use words that are commonly used and easily relatable to. The most effective campaign is one where the audience understands the message fully while spending the least effort to understand it.
Dealing with Negative Comments
Social media platforms are a bit 'open', meaning that every individual is entitled to their opinion. When one posts content, they ought to expect some kind of reaction from their audiences. This reaction can either be positive or negative depending on how you view it. Companies use this tool to get a reaction from their client base, which means they often come across such comments. The mistake that most people make with such comments is ignoring them, though at times it's justified to do so.
People benefit more when they manage to look at such comments and work on the existing errors. Therefore, ignoring negative comments may not always be the way to go, at times its best to address the existing shortcomings.
Sound Social Media Policy
At the end of the process, you should ensure your social media policy is flawless. This can save your company's reputation. Put in place a policy that insists on the importance of having decent posts all the time even during off-office hours. This can go a long way in avoiding a public relations disaster for your company.
Conclusion
(Source: https://www.pexels.com/photo/laptop-technology-ipad-tablet-35550/)
Social media marketing is a form of art with its own set of rules and regulations. For you to achieve desired outcomes, you must adhere to them otherwise you will not carry out any significant campaign. Keeping your social media manners will be a sure way of attracting and retaining a loyal audience.
Sophia Clark graduated from the University in the City of New York with B.A. in Journalism, 2011. She is a creative writer who loves to share her thoughts with readers, now she writes for Eliteessaywriters. In her free time, she enjoys writing fiction as well as reading it. Connect with her on Twitter and Google +.
#codango #developer #development #coder #coding
We're happy to share this resource that we found. The content displayed on this page is property of it's original author and/or their organization.