What's going to shake things up in 2018? IT pros will have their hands full with technologies that have been hyped for some time and are now ripe for adoption, including software-defined WAN, hybrid cloud computing, hyperconvergence, and Internet of Things. See below for our collection of enterprise picks, predictions and prognostications.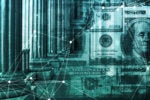 Software-defined WAN technology is sweeping across the industry, growing from an emerging technology in 2017 to become mainstream in 2018. As…
Read the entire article at the source link… Network World staff
#codango #developer #development #coder #coding
We're happy to share this resource that we found. The content displayed on this page is property of it's original author and/or their organization.